Posted on

June 8, 2016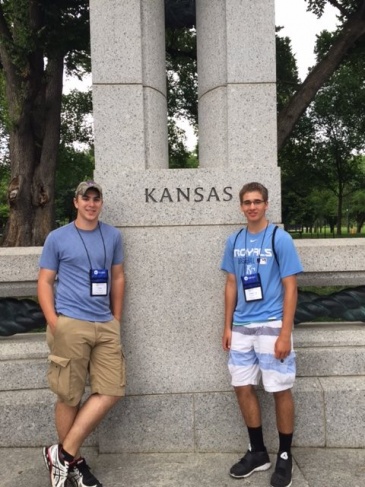 Rainbow selects Tyler Boswell of Hiawatha and Cameron Smith of Horton to Attend the FRS Youth Tour in Washington D.C.
Rainbow Communications offers students in Northeast Kansas with a once-in-a-lifetime experience by attending the Foundation for Rural Service Youth Tour.  The students selected to attend the youth tour will get a first-hand look at the rural telecommunications industry, learn about the legislative and governmental process, and get the rare opportunity to visit our nation's Capital. The Foundation for Rural Service limits the tour to 100 students, so the selected students will have the opportunity to meet other students from across rural America.
The students selected for this year's tour are Tyler Boswell from Hiawatha High School and Cameron Smith from Horton High School. Tyler is the son of Troy and Nicole Boswell and resides in Hiawatha. Tyler is a junior involved in football where he became captain in 2015, band (marching and concert), golf, headliners, musicals, pep band, summer weights, and FFA with a GPA of 3.63. His community involvement includes being a member of 4-H (Mt. Zion Rustlers), Kansas Ambassador of Music, and the Hiawatha Swim Team. Tyler volunteers his hours helping with the local Kiwanis Flag Project, the Hiawatha Halloween parade escorting Queen Contestants, serving at the Morrill Public Library Spring Tea, and as a participant at the local Relay for Life. Tyler has worked at Pederson Seed and Services, Darrin Arment Contracting, and the First United Methodist Church. Tyler also has his own personal business doing snow removal and car detailing. 
Cameron is the son of Jason and Ronda Smith of rural Hiawatha. Cameron is a junior involved in basketball, football, golf, powerlifting, band, FBLA, FFA, FCA, 4-H (Willis All-Stars), NEKRYC, and maintains a GPA of 4.0. He has received numerous awards including the NEK Academic Award, HHS Academic Award, "A" Honor Roll, the KAP Photography Award for 4-H, and was named to the Northeast Kansas All League Football as a quarterback. His community involvement includes being a member of Horton CEO and participating in community cleanup events at the 4H Swine Barn clean up, local cemeteries, and the Horton civic centers. Cameron also works for Weed Free Lawns.
Cameron and Tyler will visit historical Monuments and Memorials, Arlington National Cemetery, Smithsonian Museums, Mount Vernon; home of George Washington, US Capital, and much more.
 Rainbow Communications would like to take this time to thank all applicants and we look forward to hearing about Cameron's and Tyler's time in Washington D.C.
---