Posted on

November 2, 2017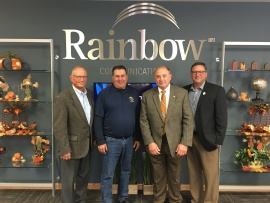 Senator Rob Olson, visited Rainbow Communications on Wednesday, October 25th as a part of a tour across Kansas. Senator Olson serves as the Chair on the Utilities Committee for Kansas. While at Rainbow, Senator Olson visited with staff at Rainbow Communications, Representatives Garber (District 62) and Representative Dr. Eplee (District 63), as well as community businesses and entities including KNZA, JW Manufacturing, Union State Bank, USD 430, and Jade Millwrights. 
Jason Smith, Rainbow's General Manager and CEO gave opening remarks with a brief introduction of Rainbow. Local businesses and entities were able to share why rural Broadband is critical to their everyday operations. KW Manufacturing uses broadband to send and receive large files such as plans and drawings to customers. Broadband is a backbone for KW Manufacturing when it comes to streaming video for business purposes. Jade Millwrights depends on their reliable Broadband connection for online training and sending quotes to customers. USD 430 is using dependable Broadband to help move forward with their 1-1 technology initiative. Without high-speed Internet, a network wouldn't be able to handle a large number of connected devices. KNZA Radio acquires important weather updates and news – all of which is online. Union State Bank has locations across Northeast Kansas – with headquarters in Everest, KS. Having a secure network and a reliable Broadband connection allows all locations to be connected seamlessly. Smith notes that while all businesses use Broadband in different ways, each is extremely important to their everyday procedures. 
Senator Olson also paid visit to a number of other Telecommunications companies in Kansas to gain a better understanding of Rural Broadband issues. Rainbow thanks the Senator and the Representatives for taking the time to join the conversation.
---