Posted on

November 11, 2016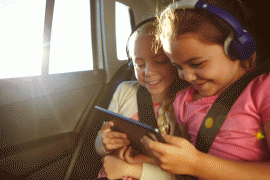 Streaming is becoming more and more relevant every day. You probably stream without realizing that's what you're actually doing. Streaming is a way of receiving video and audio data through an Internet connection to a device. Have you ever listened to Pandora on your phone? That's streaming. Have you ever watched a YouTube video on your tablet? That's also streaming.  Have you ever watched a movie on Netflix with your Roku? You've got it – that's streaming!  
Popular examples of audio streaming are:
Popular examples of video streaming are:

Rainbow TV customers can also stream popular
networks and programming with WatchTVEverywhere
Streaming can occur on a number of different devices. All devices have different capabilities, so be sure to do research on each device before making your purchase. For example, a Roku can stream ViewLocal service, while other streaming devices don't have that function.  Popular streaming enabled devices are Roku, Apple TV, Amazon Fire Stick and Google Chromecast. Some blu-ray players and gaming consoles support streaming. You can also stream from a laptop, desktop computer, tablet and smartphone.
There are a few things to consider with streaming. Your Internet connection plays a huge part in the quality of the audio and visual. We recommend customers subscribe to at least a 15Mbps High Speed Internet to receive the best audio and visual quality. 
If you stream from your mobile device outside of your home, try to connect to a Wifi connection. This will save the data on your mobile plan. However, because public Wifi connections are shared among many users, the quality of the audio and video might not be the best and you may experience buffering.
To sign up for Rainbow's 15Mbps High Speed Internet plan or for additional questions regarding streaming, please contact a customer service representative at 800-892-0163.
---