Posted on

March 31, 2017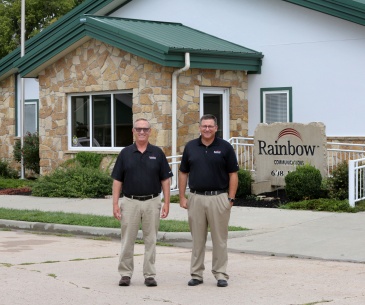 Today, March 31, 2017, our long-time friend and General Manager, James Lednicky, is retiring from Rainbow Communications.
Lednicky began his career at Rainbow Communications in 1988 where he started as a staff assistant for the General Manager, Gilbert Crouse at the time. Before taking the role, Lednicky did practically every job at the company. His first year, he worked as an outside plant technician and in the Central Office. Doing so allowed Lednicky to understand the company better, plus "I had a great mentor in Gilbert Crouse", explains Lednicky.
On July 1, 2016, Jason Smith succeeded Lednicky as General Manager. During the interim months, Lednicky advised Smith on his new role and helped with the leadership transition. Smith began his career at Rainbow Communications in 1998 as the Marketing Manager. At the time, Rainbow only offered dial-up services, and the only cell phones were bag phones - with the main service as dial tone. Smith became Director of Marketing from 2006 to 2009, and Assistant General Manager from 2008 to 2016.
Some significant changes Lednicky and Smith experienced when working together what upgrading from copper to fiber-to-the-home in Rainbow's cooperative exchanges. Lednicky explains, "Making the transition from copper to fiber took time and involved many steps. I was observing what other companies were doing and keeping up with the Federal Communications Commission (FCC) mandates. It was clear that fiber was where we were headed. Luckily, I had a board of directors that were open and receptive."
Smith states, "I'm most proud to have been involved with setting strategic plans and goals for the company since 2003. But I'm just one person on the team. So many people were involved in our many accomplishments as a company. I'm also proud of developing the people on our staff. That's the fun part of my job - watching the people flourish."
Lednicky is looking forward to the time ahead, as he states, "Retirement isn't a word I like. I prefer to think of it as my "next chapter" or "second career". I'm now taking classes to become certified in logistics for emergency preparedness. The fire department needs people on call for emergencies such as wildfires who are prepared and trained."
Smith is honored to be the new General Manager and, "grateful to James and others for helping prepare me for the role. It's exciting to see the opportunities presented by the broadband world - endless opportunities that didn't exist before."
Even with this transition, our customers should know that our mission remains the same, and that's to enhance our rural communities by providing exceptional broadband services.
---