Posted on

November 2, 2017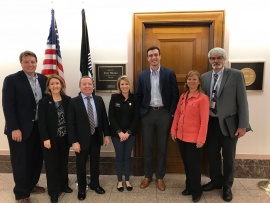 From October 25-27th, a Stacy Simmer, Community Relations Manager for Rainbow Communications visited Washington DC for the NTCA Telecom Executive Policy Summit. At the NTCA Telecom Executive Policy Summit, topics such as call completion and robocall issues, universal service fund (USF), and net neutrality were discussed. Simmer gave a presentation on social media advocacy and shared with other NTCA members how to leverage social media to educate communities on why these issues are important. 
Friday morning was a visit to the Hill where Simmer and other Kansas companies visited with staffers from Senator Moran, Senator Roberts, and Representative Marshall's office on topics regarding retransmission, the universal service fund and the budget shortfall. "It's important that Rainbow continues these conversations with our legislatures. Broadband deployment in rural areas is critical to those in education, agriculture, healthcare, and much more. With the USF budget sufficiency issue, our communities could be affected – and that's why we are having these discussions," notes Simmer. 
Rainbow Communications participated in NTCA's "Build Broadband with Us" campaign over the summer and over 1,800 individuals from across the United States became an advocate for the campaign. The initiative is designed to engage broadband providers, their employees and communities, policymakers, and others in multiple levels of building broadband.
Pictured: Jonathan Crawford – Mapcom, Michelle Ly – NTCA, Brian Boisvert – Wilson Communications, Stacy Simmer – Rainbow Communications, Coner McGrath – Senator Moran's office, Rhonda Goddard – NexTech, and Chris Schroeder – TCA. 
---